Visit us in Greensboro, NC
Our store is open for customer visits. You can also take advantage of our curbside service. Simply place your order online using the Promocode PICKUP, and tell us when you will be coming to collect, or call us by phone ahead of time or from your car in front of the store and place the order for pick-up. We will bring your order to your car and place it in the trunk for you. We want you to be safe and still enjoy our Scottish foods.
We do have a retail storefront at our warehouse.
Open Monday to Thursday from 9AM to 5PM
Open Friday from 9AM to 4:30PM
Closed Saturday & Sunday during festival season (April through October)
Open Saturdays beginning November 11th through December 23rd from 10AM to 5PM.
Closed Thanksgiving, Christmas and New Years Day
Our Store is located at 1908 Fairfax Road, Suite B, Greensboro, North Carolina.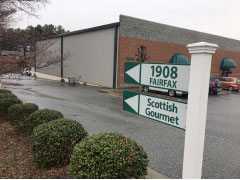 We are not in a fancy shopping area - we are Scottish after all and prefer low rents!
So follow the signs down the driveway to 1908 Fairfax Road, which is behind 1904 Fairfax Road.
Our Store is Handicapped Accessible and we have a large comfortable chair for shoppers. The official greeter is Flora, our Border Collie - she comes to the door whenever it opens.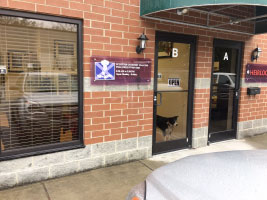 Special Services we offer to our store visitors
Gift baskets and Hampers
Buy online- Pick-up at store - use promocode PICKUP to remove shipping charges, and please tell us in the order message when you will be picking up the order.
Visit us at our travelling store - We attend many Scottish events across the USA each year. We bring the store to you! We love to meet our customers face to face - go to Scottish Games & Festivals to see all the events we are attending next year.