Balmoral Chicken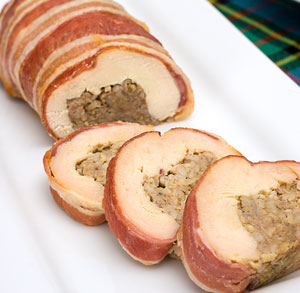 Ingredients:
2 Chicken Breasts, pounded flat
1 lb Haggis, thawed
10 Bacon Strips, uncooked
Directions:
On a piece of cling film, lay five strips of bacon side by side. Lay flattened Chicken Breast on top of bacon 'wrapper'. Add 1/2 pound of thawed haggis down the center of the chicken breast. Roll all three together as tightly as you can to make a fat sausage. Repeat with the second chicken breast on a second piece of cling film. Twist ends of cling film and refrigerate for 30 minutes to set the shape.
Remove cling film and bake both in a baking dish with the open edge down. Bake for 1 hour in 350 degree oven.
Each roll serves 2. Excellent with a white onion sauce.